The Aston Martin DB5 is a car that once defined a brand. It was the chariot of choice for Mr Bond himself, and the resulting exposure meant this single model helped to shoot Aston Martin into the global limelight.
It was also remarkably good at being a luxury grand tourer, if an Autocar road test from 1964 is anything to go by.
"More and more cars today can reach the magical 'ton', but those that can do it with the ease and rapidity of the Aston can be counted on the fingers of one hand," is the explanation in the near 52-year-old issue.
"It is a car that defies definition, for it can put on so many widely differing characters that it always seems tailored to one's mood of the moment," the article continues. "Pottering home through a city's evening exodus, whittling through strings of weekend tourists, or gobbling up great strings of concrete motorway like an Italian with a plate of spaghetti, the Aston makes all of these light work and comes to the end asking for more."
Priced at £4248 including tax, the DB5 wasn't far off the value of a semi-detached house. But the Autocar road test team remained convinced that the price was justified, especially after subjecting the DB5 to some high-speed testing on track.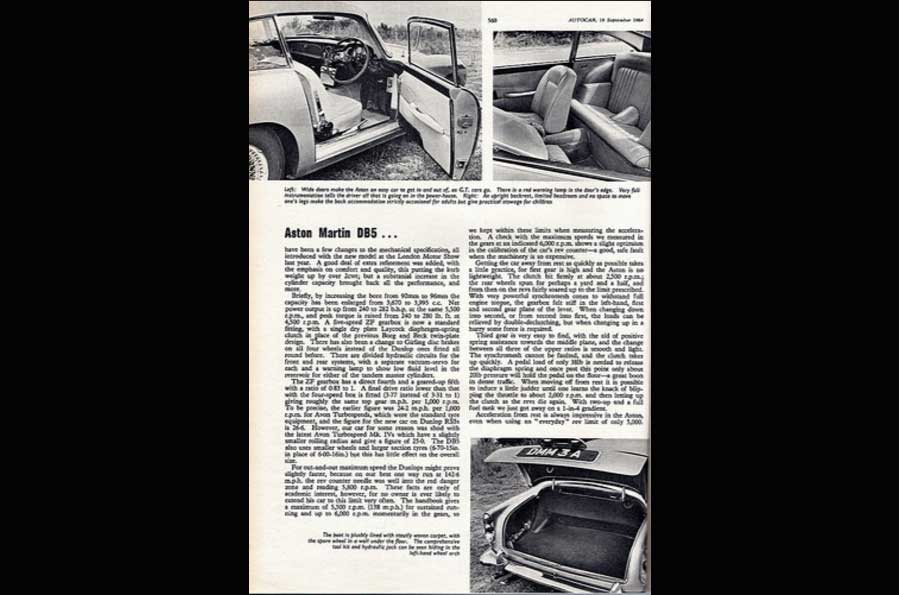 "During several fast laps of a closed test circuit we tried to find the limit of adhesion. Initially the car under-steered, but as we got faster and put the power on earlier there was a progressive change to oversteer. We were then able to slide the bends more smoothly with opposite lock, with no qualms whatsoever, and well within the width of the road."
The DB5, with its 4.0-litre six-cylinder engine, produced a healthy 282bhp and 280lb ft of torque. It weighed a little over 1.5 tons and could accelerate from 0-60mph in 8.1sec. Top speed was more than 140mph, making it faster than the Maserati 3500 GTI but close to 10mph behind the Jaguar E-Type.
Our road testers commended the car's five-speed ZF gearbox for its "powerful synchromesh cones" that could "withstand full engine torque," but admitted that their strength meant the 'box "felt stiff in the left hand". They recommended using force "when changing up in a hurry".
While the DB5's controls may have required its driver to be of a burly stature, a breadth of talent that enabled it to be a fine grand tourer and talented performance car means that, rather romantically, it has much in common with its great, great, great, great, great grandchild, the DB11.
Because much like the all-new DB11, the DB5 is "a car which cries out to be driven, to be driven well, and to be driven far."
18 September 1964
Previous Throwback Thursdays
7 November 1958 – F1 champ Mike Hawthorn's love of automatic gearboxes
29 January 1997 – Chrysler's petrol-hydrogen fuel cell concept
11 October 1986 – Hyundai's second UK market foray
15 March 1980 – Triumph's TR7 Drophead
13 February 1991 – Mercedes F100 predicts future car technology
16 April 1997 – A modern 'Blower' Bentley 
19 June 1991 – Volkswagen Polo G40 tested
12 April 1946 – BMW's K4 streamliner
25 October 1989 – Ford Fiesta XR2i vs Peugeot 205 GTi 
30 April 1965 – Car racing on the Isle of Man 
3 April 2002 – Honda NSX vs Nissan Skyline GT-R
22 January 1997 – Rover reinvents the Mini
29 January 1997 – Driving the Dodge Viper Venom 600
Individual copies of Autocar with free next-day delivery can now be bought through Magsdirect.