What is it?
They know how to do it, don't they? There's a reason the greatest sports car of all time is also one of the most successful sports cars of all time. Beyond the fact that it's the greatest, they give you options.
Go to the Porsche website and you'll currently find 19 variants of the 911 on offer, even though the range is currently without a GT3/RS model. From the base Carrera 2 through tao the Turbo S Cabriolet, Porsche is the master at making a 911 for everyone. Well, not quite everyone, because even the cheapest one is £76,000, but you know what I mean. With some sports cars/junior supercars, you might get two or three, or four or five, even seven or eight flavours. Nineteen means that, if one isn't quite for you, another one likely is.
The latest and meanest batch to join the range are the GTS models which, last time around, acted like some kind of bridge between regular Carrera models and the GT3. Now the GTS is back, with the suggestion that it might do the same: a Carrera S Plus, if you will. Lower, faster, keener, but not motorsport-derived.
Sounds quite promising for the road, doesn't it? GTSs now account for five models in the 911 range. You can have a two-wheel-drive and four-wheel-drive coupé, the same in cabriolet form and a Targa in four-wheel drive only, in either manual or dual-clutch PDK automatic form.
All GTS variants get the wider body that usually marks out four-wheel-drive models, and the same power output of 444bhp – 30bhp more than the regular Carrera S – courtesy of new turbochargers for the 3.0-litre, flat six engine. That the GT3, GT3 RS and 911 R are no longer available means the 911 line-up is now entirely turbocharged.
All GTS models get sports suspension, which is 10mm lower than standard, but coupés like this one get a further suspension drop courtesy of PASM (Porsche Active Suspension Management), which also allows the dampers to be swapped between normal and stiffer modes. The Targa and Cabriolets do without that. Standard on all, though, is a sports exhaust and Porsche's Sport Chrono package, which brings with it dynamic engine mounts. Soft during normal driving, they firm up in cornering to prevent the engine moving around and unsettling the handling of what is, let's remember, a rear-engined car.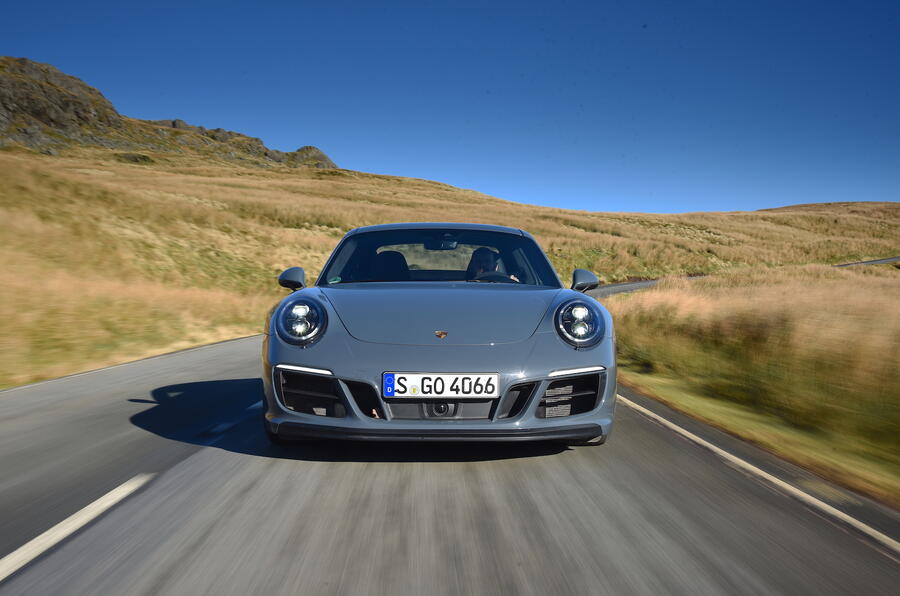 What's it like?
The detail changes even between GTS variants continues. If you spec a manual car, you get a mechanical limited-slip differential and Porsche Torque Vectoring (rear-wheelbraking). PDK models get an electronic limited-slip differential and PTV Plus. I swear there are as many Porsche initialisms as there are 911s. The 'Plus' bit means that the wheel braking is combined with control of the differential. And then you can have as an option Power Steering Plus, which makes the steering lighter at parking speeds and is fitted to this grey car; and active rear steering, which isn't.
Phew. Keeping up? Good. Then I'll continue: wheels are 20in centre-lock as standard, and 0.5in wider than usual, shod with 245mm-wide front and 305mm-wide rear tyres. The rear track is wider than the Carrera S's, too, to encourage less body roll. Front brakes are up by 10mm in diameter and get larger 911 Turbo pads, with aluminium disc hubs. The 0-62mph time falls by at least 0.2sec and, in case you care, the Nürburgring lap time is, apparently, down by four seconds.
Inside? An Alcantara steering wheel is the highlight (because I love Alcantara wheels) and there are a few smatterings of GTS-labelled bits and bobs here and there, plus dark colours to make it a bit more moody and purposeful. But the devil is, as is so often the way with Porsche, in those technical details, intended, you suspect, to add just enough keenness and sharpness, hints of GT3, while staying road-sensible.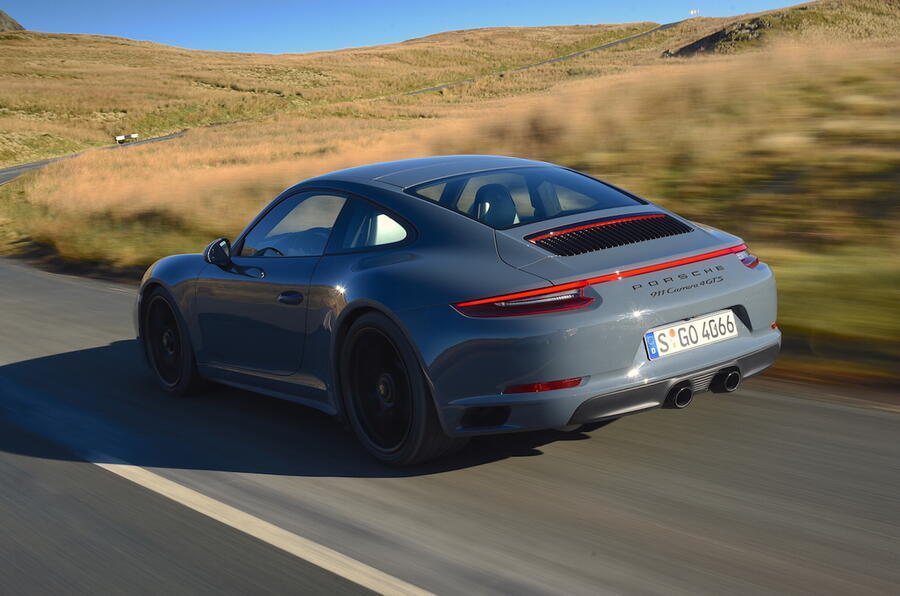 Quelle surprise, they work. Boy, do they work. A standard 911 S is still a terrific car – and because it retains six cylinders, unlike a Boxster/Cayman, the addition of turbos hasn't spoiled the engine – but this GTS turns up the levels of interaction a bit further.
There's no great reason it should be hugely different from a standard 911 – and, well, it isn't – because you can have the equivalent suspension drop on the regular Carrera S. But there is a big enough difference in all the little details combined – the better feel offered by the steering wheel rim; the reduced unsprung mass at the front; the modest but noticeable difference in urgency; and the resistance to roll and enhanced traction given by the new rear geometry – that the GTS feels inherently keener, more engaged, and more willing than a regular 911.
It still rides, too, which is some going for a car with 35-profile front and 30-profile rear tyres. Even on Welsh hillside roads, you can flick the dampers into the Sports setting and not be bucked from one bump to another as you would be in a Nissan GT-R. It doesn't have the magic floaty feeling of a McLaren 570S, but it settles impeccably quickly and its steering, meatily heavy, is quite possibly the most rewarding electrically assisted system on any current production car. It retains a usable roundness, but it feels inherently keener, more engaging, more focused. The engine sounds a touch zingier and has suffered no discernible loss in response. PDK is now superb and the handling is as secure, predictable and engaging as you could hope.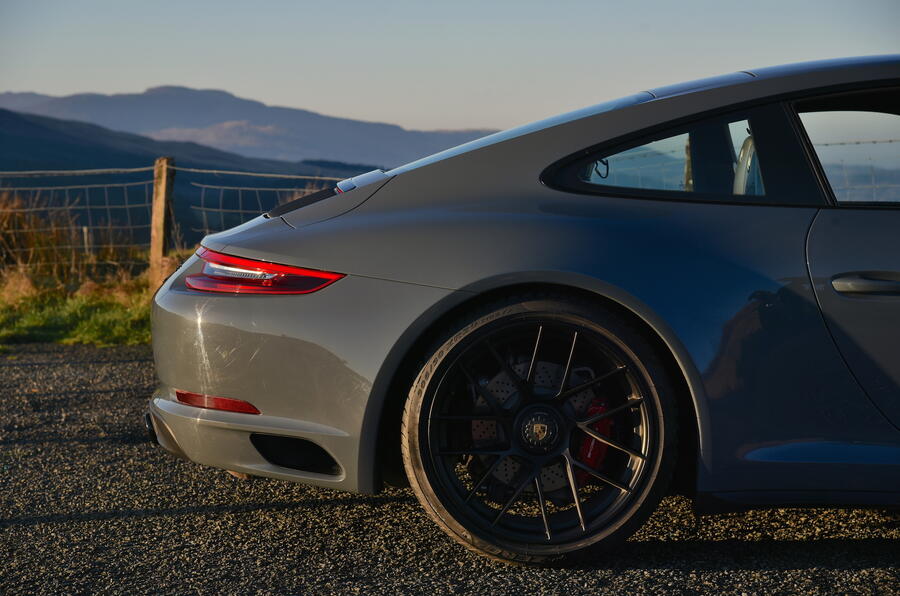 Should I buy one?
Those words keep cropping up when you try to describe the GTS: engaging and keen. It's not that a regular Carrera or Carrera S lacks those things, but for every incremental model upgrade, they are the things that seem to fall away, until some of it is popped back in later. The GTS is Porsche doing precisely that.
Like I said, Porsche gives you choices. Of the current 911 line-up, the GTS would be mine.
Porsche 911 Carrera 4 GTS PDK
Location Wales; On Sale Now Price £99,303 Engine Flat six, 2981cc, twin-turbo, petrol Power 444bhp at 6500rpm Torque 406lb ft 2150-5000rpm Gearbox 7-spd dual-clutch automatic Kerb weight 1590kg 0-62mph 3.6sec Top speed 191mph Economy 33.3mpg (combined) CO2/tax band 192g/km, 37% Rivals Audi R8, Nissan GT-R